Warbirds Downunder 2018 is just two weeks away and we are excited to be welcoming you to Temora very soon!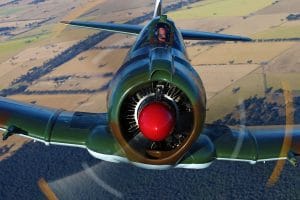 There are only 14 days to go until Warbirds Downunder 2018 and we are almost ready to go! We know a lot of visitors are starting to get ready for the journey to Temora so we have provided the following information to help you prepare for your trip.
If the information below doesn't answer all of your queries, please head to the Warbirds Downunder website and check out the Frequently Asked Questions.
GETTING TO TEMORA
If you are yet to plan your trip to Temora, our website provides suggested routes from Sydney, Canberra, Melbourne and Wagga Wagga. Click 
here
 for more details.
A full pilot advice document, as well as other information, is also published on our website for those visitors intending to fly to Temora for Warbirds Downunder. Click 
here
 for more details.
GETTING TO THE EVENT SITE
Once you arrive in Temora, follow the signs heading north along Hoskins Street and turn left at Kitchener Road. Cross the railway line and the road veers right to become Airport Street. Follow the directions of the signs and parking staff.
Camping check-in

You can check-in for camping at the Rotary caravan on the corner of Airport Street and Tenefts Street.
This will be open:

Monday to Wednesday: 9am – 5pm
Thursday: 9am – 10pm
Friday: 9am – 7pm
Saturday: 8am – 10am

If you arrive after hours, please contact 0418 780 251
Parking at Warbirds Downunder (on event days)

Once you are on Airport Street, the parking staff and signs will direct you.
You will need to bring the details of your pre-booked parking for the day.
Some parking will be available on the day, at a cost of $8 but it will be VERY limited.
NOTE – If you are camping, there is no need to drive from the campsite to the event as there is a walking route from the campgrounds to Gate B or Gate C. There is a 
site map
 on our website that shows the location of the campgrounds compared to the event site.
GETTING AROUND
Buses will depart for the Temora Town Centre from all campgrounds and Squadron Tent Barracks. The shuttles will run on a 30-minute loop, at a per trip cost of $2. Times of operation are:
Thursday: 4pm – 9pm
Friday: 11:30am – 9:30pm
Saturday: 8am – 9:30pm
Sunday: 8am – 11am
AT THE EVENT
There will be plenty of things to do onsite at Warbirds Downunder 2018, but here are some of the key details to help you plan your day:
Warbirds Downunder event times:

Friday – Gates open at 12pm with flying from 3pm
Saturday – Gates open at 8:30am with flying from 11am

Full flying programs are scheduled for each day of the event
Plenty of great food and drink options will be onsite, including a bar
ATM facilities will be onsite, but there may be queues
There will be a kids zone and lots of other fun activities
Other details about the event can be found on the FAQs page on our website
TICKET UPDATE
While all premium tickets quickly sold out for this event, General Admission tickets are still available to buy from the 
Ticketmaster
 website! Please note that online pricing does not apply to tickets sold on the day, and while tickets will be available for sale at the venue on the days of the event, these will be sold at a higher price.
Our Meteor and Hudson campgrounds are close to the event site and still have some available sites remaining. To purchase, click on the link to the 
Ticketmaster
 website.