English Electric Canberra TT.18
Rego: VH-ZSQ Military S/N: WJ680
The English Electric Canberra is an all-metal, semi-monocoque construction with a canti-levered wing and a wooden vertical stabiliser. English Electric and Handley Page manufactured a total of 926 with 48 manufactured by the Government Aircraft Factory in Australia, and 403 built by Martin in the United States as B-57's for the U.S. Air Force.
WJ680 entered service in December 1955 as part of 551 Wing RAF Bomber Command based at Gutersloh, Germany. However, in February 1956, it suffered damage that resulted in a 12 month removal from service. Shortly after its return to 59 Squadron, the aircraft again suffered extensive damage from a bird strike during a low level training mission, damaging the canopy, engine cowlings, tailplane and the wooden fin fitted to the UK built machines.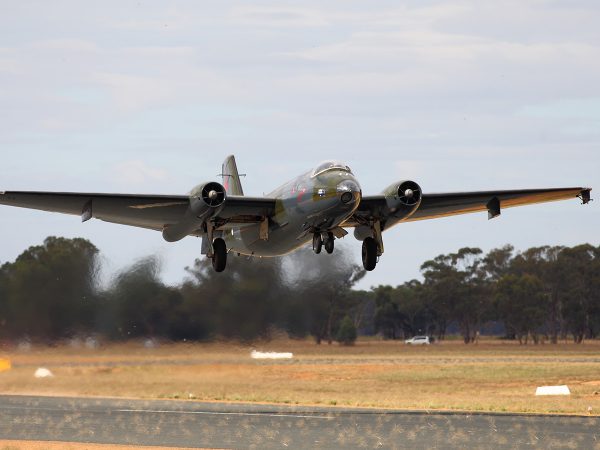 Repaired yet again, the aircraft was reassigned to a UK based maintenance unit where it remained in storage for 10 years. In 1967, it was removed from storage and converted by British Aerospace to TT.18 standard, carrying the Rushton designed target-towing system but, was again placed in storage until 1971. In December 1972, it was involved in yet another incident, which resulted in the ejection of the navigator. More repairs followed and it returned to 7 Squadron on target towing duties until 1980, flying without incident, at which time it returned to British Aerospace at Salmesbury for major servicing.
Returning to 100 Squadron where it remained on strength until 18 December 1991 when it performed its last flight in RAF service. It was placed in open storage at RAF Wyton until sold in 1992 to Ron Mitchell. In 1994, G-BURM performed its first civil display at Duxford.
Temora Aviation Museum acquired the aircraft in May 2001. Upon acquisition, the Museum repainted the aircraft to represent those flown by the Royal Australian Air Force 2 Squadron during the Vietnam conflict. The aircraft is maintained in an airworthy condition and remains to this day the only English Electric Canberra flying in Australia.
This aircraft is now part of the RAAF 100 Squadron Temora Historic Flight Collection after being generously donated by the Temora Aviation Museum in July 2019.
Canberra return to flight.
The Canberra Bomber returned to flight on the 28th June 2021.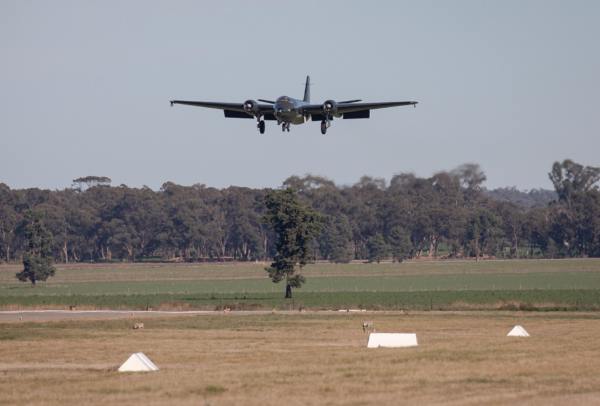 Specifications
Engine
Rolls-Royce RA.3 Avon Mk. 1
6,500lb (2,948 kg)
Engines feature a 9 stage axial compressor, 8 combustion stages and a single stage turbine.




Fuel

Aviation Turbine Fuel (Jet Fuel)
Fuselage Tank Capacity:
1,374 Imperial Gallons
6,246 Litres
1,650 U.S. Gallons
Ventral Tank Capacity (2):
250 Imperial Gallons
1,136 Litres
311 U.S. Gallons



Dimensions

Wingspan:
64' 0"
19.50 m
Length:
65' 6 "
19.96 m
Wing Area:
960.3 sq. ft
89.20 sq. m
Height:
15' 7"
4.75 m



Weights

Empty:
25,400 lb
11,521 kg
Maximum Takeoff weight:
47,000 lb
21,312 kg



Armament

Four 750 lb (340 kg) M1117 general-purpose bombs in weapons bay plus two others mounted externally, one under each wingtip.



Performance

Maximum Speed:
504 knots
580 mph
993 km/h
Cruise Speed:
379 knots
437 mph
703 km/h