Museum News
Simulator Update
We're thrilled to announce that three state-of-the-art full-motion simulators have just touched down at Temora! Prepare for an unforgettable experience as you take control of iconic aircraft like the Kittyhawk, Spitfire, and Mustang, all from the comfort of our cutting-edge simulators!
Our dedicated team has wasted no time and has already started testing the simulators to ensure a seamless and exhilarating flying adventure for all of our visitors. The countdown has begun, and over the next few weeks and months, these simulators will undergo rigorous testing and onboarding to ensure they're ready to take flight come October!
Get ready to fulfil your aviation dreams and experience the thrill of flying these iconic Warbird aircraft in our incredible full-motion simulators. Stay tuned for more updates, as we'll soon reveal how you can book your spot to soar the skies with us.
EVENTS
September Aircraft Showcase 
Not only will you experience a themed selection of Australia's ex-military flying history come to life, visitors will also hear comprehensive commentary, meet and greet the pilots, and participate in a Q&A session with a special guest.
To purchase your tickets head to  https://bit.ly/September23showcase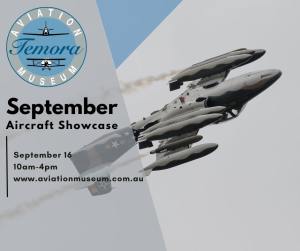 Get Ready to Soar and Jam at A Day at the Lake
A Day at the Lake will encompass "A Day on the Green" style, fully licensed music event with an air show integrated throughout.
The program will begin with some relaxed live music followed by some Rag and Tube vintage aircraft displays, before moving into some more upbeat live music and heavier Warbirds aircraft displays, finishing the air show component of the event with fast vintage jets dispersed throughout the afternoon into the evening. The event will conclude with the finale of a 60 minute concert from the Baker Boys Band.
Throughout the day spectators will be able to enjoy the culinary delights from food vendors from across the Riverina region, and market stalls showcasing and selling local goods. In addition, local brewers, wineries, and distilleries will be on hand to quench the thirst of our spectators.
For more information and to purchase your tickets click here>>