ENGLISH ELECTRIC CANBERRA
The news that you have all been waiting for is here!!
English Electric Canberra TT.18 (VH-ZSQ, WJ-680), one of 11 aircraft in The Royal Australian Air Force's (RAAF) 100 Squadron Temora Historic Flight collection, returns to flight after an 11-year hiatus, last flown on 5th June 2010.
After a three-year restoration process, the Temora Aviation Museum Engineering Team, led by Chief Engineer Andrew Bishop, and supported by RAAF 100SQN, have successfully converted the highly corrosive cartridge start engines to electric start engines, ensuring the longevity of this aircraft.
The return to service of this aircraft makes it once again the only airworthy Canberra Bomber in Australia, and the RAAF and Temora Aviation Museum are honoured to have been able to ensure her return to the sky.
Test pilot Darren "Buster" Crabb had not flown the aircraft since 2008, but he had this to say after his first flight, "The engineers have done a fantastic restoration, and through our ground school I was able to re-affirm all of the numbers and put them into practice during the first flights".
There are only three other, heavily modified airworthy Canberras in the world, (Martin WB-57 variants), which are currently in the USA servicing NASA, making this a very rare aircraft indeed!
When the conversion pilot Mark Binskin was asked about his first flight, he said, "I was naturally a little timid with it to start off with, but it is a beautiful aircraft to fly, with plenty of performance, and when you consider it was built in the late 1940s, it really is a great design! It is an absolute honour to be selected to fly this vintage jet, owned and operated by RAAF 100SQN".
The Temora Aviation Museum and RAAF 100SQN Temora Historic Flight intend on displaying this aircraft publicly at the next Aircraft Showcase in Temora, scheduled for October 9th & 10th, 2021.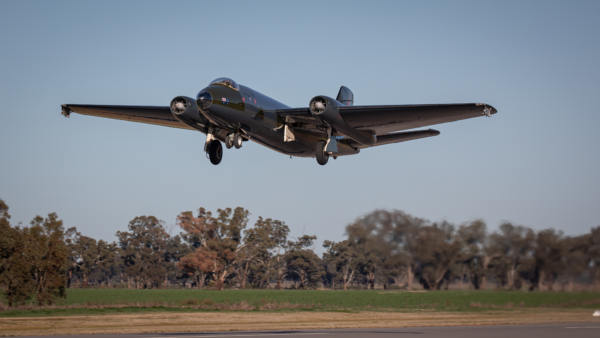 Photo by Colin Brennan
RAAF AND TEMORA AVIATION MUSEUM
July 1st marks two years since The Royal Australian Air Force and the Temora Aviation Museum formed a strategic alliance which saw the RAAF take ownership of 11 historic ex-military aircraft types which served the RAAF during times of conflict.
This partnership allows for the aircraft to remain at Temora Aviation Museum to assist in broadening the Museum's engagement with the Australian community. The Temora Historic Flight Club continues to be responsible for the flying displays at Temora, and the Temora Aviation Museum Engineering team continues to provide maintenance to all the aircraft at the Museum.
Since 2019, RAAF 100 Squadron has been re-established and is responsible for the continued operation of their historic fleet of aircraft based at Temora and Point Cook. Together we have commenced the commemoration of the RAAF Centenary year, celebrated 20 years of the Temora Aviation Museum, and continue to showcase the 100SQN Temora Historic Flight aircraft both locally and interstate.
We look forward to continuing our partnership with RAAF 100SQN and supporting the continual operation of Australia's ex-military aircraft history for many years to come.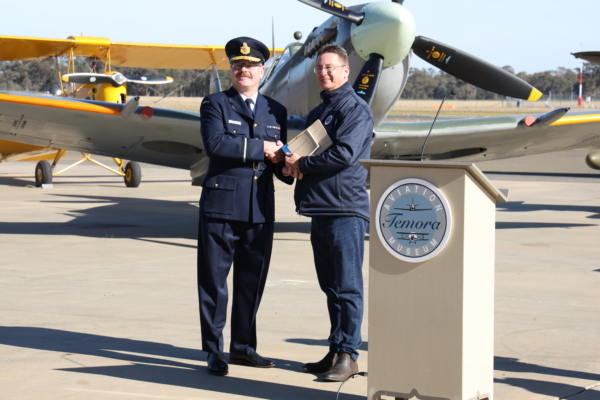 EVENTS
AIRCRAFT SHOWCASE
October 9th & 10th
Don't miss the first public display of the English Electric Canberra, scheduled for October 9th & 10th- Purchase your tickets HERE
BRISBANE AIRSHOW
Postponed until October 16th & 17th 2021
Due to recent lockdown restrictions, the Brisbane Airshow, due to take place at the Watts Bridge Memorial Airfield over the weekend of the July 3rd and 4th 2021, has been postponed until October 16th & 17th 2021.

For more information, please click HERE
OTHER NEWS
VIRTUAL REALITY
Don't forget to check out the new Temora Aviation Museum Virtual Reality Tour, which can be viewed on desktops, tablets or smart phones. Please be aware that if you are viewing on your iPhone, the Tour works best on Safari.
Click https://vrtour.aviationmuseum.com.au/ to enjoy the tour
Please share any feedback with us at info@aviationmuseum.com.au or give the team a call on 02 6977 1088.
UNSUNG HEROES
If you're interested in stories from our Veterans, we encourage you to visit our Unsung Heroes website
With over 500 interviews conducted over the past 19 years, by Keith Webb on behalf of The Temora Aviation Museum, it is well worth a look & listen.
Click HERE http://unsungheroesaustralia.com.au/ go directly to the UNSUNG HEROES website.
Simply select "Search Veterans", and you can search by First Name, Last Name, Rank, Conflict, Service number or Keyword.
SUPPORTER PROGRAM
If you are keen to support the Museum whilst reaping rewards, then why not join our wonderful supporter program.
To find out more information, or to join, click HERE https://aviationmuseum.com.au/levels-page/
RECONNECT
Did a member of your family train at Temora in the RAAF's No.10 Elementary Flying Training School (No. 10 EFTS)?
We are interested in the stories of all 10 EFTS personal from trainee aircrew alumni, flying instructors, and the largest contingent of 10 EFTS personnel – ground staff. Likewise, we are keen to hear stories of civilians who interacted with the school. The RAAF's 10 EFTS cohort form the basis of Temora's aviation history, and we want to capture these stories before it is too late.
If you want to share your story with the Museum or/and have historical objects you would like to donate, please contact our team at info@aviationmuseum.com.au
We have now created a private Facebook Group to help us collect all these stories and stay connected with relatives and friends of the RAAF's 10 EFTS personnel 👉http://bit.ly/10EFTSRECONNECT
Follow the #10EFTSRECONNECT journey on social media and reach out if you know someone who are part of the 10 EFTS family.
To stay up to date with what's happening at the Museum, visit us at https://www.facebook.com/temoraaviationmuseum or https://www.instagram.com/aviationmuseum/?hl=en
Remember for any queries, please contact us at info@aviationmuseum.com.au