Lockheed Hudson
Rego: VH-KOY Military S/N: A16-112
The Hudson served the Allies faithfully during the war on most fronts and with little fanfare. The Air Forces of Britain, Canada, the United States, New Zealand, the Netherlands, China, Brazil and Australia all operated Hudsons.
Derived from the Lockheed Model 14 Super Electra 12 passenger transport, the Model 14L/214/414 Hudson first flew in December 1938 and by the time production ended in mid 1943, a total of 2,941 examples had been built, most of which served the Royal Air Force and Commonwealth countries. The Royal Australian Air Force received 247 Hudsons between January 1940 and May 1942 in several versions.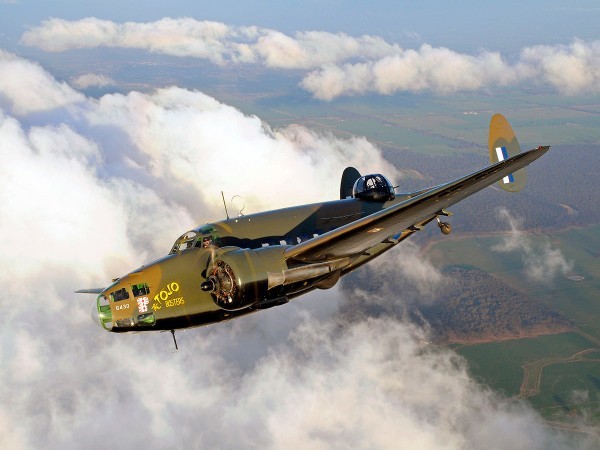 As the war progressed, a growing number of roles were found for the Hudson, including transport (14 troops could be carried if the turret and other items of equipment were removed), meteorological reconnaissance, VIP transport, and air-sea rescue, for which role an under fuselage airborne lifeboat could be carried. The versatility of the Hudson ensured it remained in service throughout the war and for a significant time afterwards.
Hudson A16-112 was built in 1939 and received ex USA on 5th December 1941. After service with No.1 O.T.U., the aircraft was allotted to No. 14 Squadron on 8th July 1942 for anti submarine patrol off the coast of Western Australia. It then served a period with No.32 Squadron off the East coast of Australia. Upon transfer to No.6 Squadron, it served out of Milne Bay, PNG, on bombing armed reconnaissance and patrol work for a period of twelve months. After return to the mainland for overhaul, it was allocated to the RAAF Survey Flight and flew with them for the next two years. Post-war, it was sold to East-West Airlines and became their flagship, VH-EWA for the next six years until it was purchased by Adastra Aerial Surveys as a photographic aircraft, from whom the Long family purchased it in 1976. Restoration and conversion to its original military configuration was completed in 1993.
The paint scheme is representative of a Hudson III A16-211 bomber that served with No.6 Squadron RAAF during the decisive Battle for Milne Bay, and later with No.2 Squadron in the North Western Area (Timor/Dutch East Indies -Indonesia). A16-211 survived Milne Bay and received a complete overhaul before transferring to No.2 Squadron flying out of Millingimbi in the Northern Territory. Together with four other Hudsons, A16-211 carried out an armed reconnaissance to Maikor and Taberfane (both Japanese floatplane bases) in the Aru Islands on 6th May 1943. On returning to Millingimbi A16-211's undercarriage gave way and the aircraft ground looped. It was severely damaged and was converted to components, the remains of this aircraft are still at Millingimbi to this day.
Temora Aviation Museum acquired the aircraft in May 2004 from Malcolm J. Long and operates it as a tribute to Hudson crews of World War II.
This aircraft is now part of the RAAF 100 Squadron Temora Flight Collection after being generously donated by the Temora Aviation Museum in July 2019.
Specifications
Engine
Two Wright GR-1820-G205A Cyclone with two speed superchargers each rated at 1,200hp (894 kW) for take off


Propeller
Three bladed Hamilton Standard hydromatic constant speed propellers of 10' 6" (3.20m) diameter




Fuel

Aviation Gasoline 100 Octane
Wing Centre Section Tanks (x4):
536 Imperial Gallons
2,437 Litres
643 U.S Gallons



Dimensions

Wingspan:
65' 6"
19.69 m
Length:
44' 3 3/4 "
13.50 m
Wing Area:
551 sq. ft
51.18 sq. m
Height:
10' 10 1/2"
3.32 m



Weights

Empty:
12,100 lb
5,488 kg
Maximum Takeoff weight:
19,500 lb
8,845 kg



Armament

Two forward facing, fuselage mounted .303 in. Vickers machine guns.
Maximum bomb load of 1,600lb (726kg) comprising four 250lb (113kg) and six 100lb (45kg) bombs; two fixed Browning 0.303in machine guns in upper nose with 500rpg; one optional Vickers 0.303in machine gun in retractable ventral hatch with 500 rounds; two optional Vickers 0.303in beam machine guns in rear fuselage with 500rpg; two Browning 0.303in machine guns in dorsal Boulton Paul turret with 1,000rpg.



Performance

Maximum Speed:
219 knots
252 mph
406 km/h
Cruise Speed:
170 knots
196 mph
315 km/h