Supermarine Spitfire Mk VIII
Rego: VH-HET Military S/N: A58-602
The Spitfire Mk VIII is an all-metal, semi-monocoque construction with a canti-levered wing, fabric covered elevators and rudder and retractable landing gear.
A total of 20,334 Spitfires were built before, during and after the war, with a total of 1652 Spitfire Mk VIII variants built.
This aircraft was the last Spitfire acquired by the Royal Australian Air Force (RAAF) with the original Military serial number A58-758. It was built by Supermarine in England in 1944, test flown and then shipped to Australia. The Air Force took delivery of the aircraft in April 1945, and, with World War II drawing to a close, the aircraft was not required on active service and was instead placed into storage.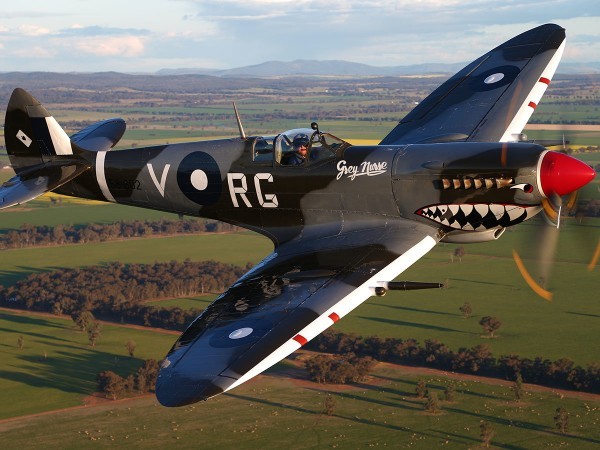 After the war, the aircraft was utilised at Sydney Technical College as an instructional airframe. It was then acquired by Mr. Sid Marshall who stored it, disassembled, at Bankstown until 1982. Mr. Colin Pay of Scone obtained the Spitfire and began a detailed restoration program, which was completed in 1985 when the aircraft flew again.
The aircraft is painted in the green and grey camouflage colours worn by the RAAF aircraft defending Darwin during World War II and in operations in the South West Pacific. The aircraft carries the military serial number A58-602 and markings and of Wing Commander R.H. (Bobby) Gibbes OAM DSO DFC* aircraft.
David Lowy acquired the aircraft in May 2000 and donated it to the Temora Aviation Museum in July 2002, where it is maintained in an airworthy condition and regularly flown at Museum air shows. This Spitfire is one of a handful of flying Spitfires in Australia, of which two reside here at the Temora Aviation Museum.
This aircraft is now part of the RAAF 100 Squadron Temora Historic Flight Collection after being generously donated by the Temora Aviation Museum in July 2019.
Specifications
Engine
Rolls-Royce Merlin 70
1710 horsepower (1275.66 kW)
27 Litre liquid cooled V-12 piston engine equipped with a two speed, two-stage supercharger.


Propeller
Rotol Constant Speed
10'9" diameter (3.22m)
An engine driven propeller governor hydraulically controls four wooden blades.




Fuel

Aviation Gasoline 100 Octane
Wing Tank Capacity:
90 Imperial Gallons
409 Litres
108 U.S. Gallons
Wing Tank Capacity (2):
30 Imperial Gallons
136 Litres
36 U.S. Gallons



Dimensions

Wingspan:
36' 10"
11.23 m
Length:
31' 3 ½ "
9.54 m
Wing Area:
242 sq. ft
22.50 sq. m
Height:
12' 7 ¾"
3.85 m



Weights

Empty:
5,805 lb
2,633 kg
Maximum Takeoff weight:
8,021 lb
3,638 kg



Armament

Two 20mm Hispano Cannons.
Four .303 in. Browning Machine Guns.
Provision for one 500 lb (227 kg) or two 250 lb (114 kg) bombs.



Performance

Maximum Speed:
361 knots
416 mph
669 km/h
Cruise Speed:
220 knots
253 mph
407 km/h