If you missed out on acquiring Premium Tickets for Warbirds Downunder 2018, you now have the opportunity to secure some fantastic seats.
Due to a recent cancellation, we now have a limited number of 2-Day Gold Passes and 2-Day Flightline Premium Grandstand tickets available. For prices & inclusions please visit  https://warbirdsdownunderairshow.com.au/premium-tickets/
From Monday 18 June, 9am (AEST), you can upgrade your existing ticket by calling Ticketmaster on 136 100, or if you haven't purchased tickets yet, you can purchase directly online 👉 www.warbirdsdownunderairshow.com.au following the prompts.
*Please note these tickets will be sold on a first in first served basis, and we are unable to hold tickets.
We look forward to seeing you this October!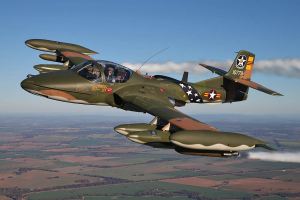 A-37 Dragonfly
The A-37 Dragonfly VH-XVA performed at Aircraft Showcase for its first public appearance in over 12 years on Saturday 9th June, which was a huge occasion for the Temora Aviation Museum and its talented team of engineers.
Two weeks ago, Darren "Buster" Crabb flew the A-37 Dragonfly for a series of initial test flights. Buster commented that he was feeling extremely pleased with all the restoration work done on the aircraft.
Thank you Andrew Bishop, and the engineering team for your hard work; and we look forward to many glorious years of flying this unbelievable performer.
Be sure to secure your Warbirds Downunder tickets 👉https://warbirdsdownunderairshow.com.au to watch this amazing military aircraft fly.

English Electric Canberra TT.18
The Canberra Bomber project is attracting a lot of attention and we are pleased to advise everyone that the major maintenance is progressing very well with all the inspections almost finished.
Flying controls are being reassembled, the tail plane is now complete with elevators and tabs. The rudder with its tab is also ready. Undercarriage components have been painted and are now ready for reassembly. The new hydraulic hoses are also ready for fitment next week.
Engine tooling is being prepared for shipment to the UK already so that work can commence on our Avon MK1 engines. We're very excited that the light at the end of the tunnel is getting a little brighter every day to see this magnificent aircraft back in the skies over Temora!
Although it is too difficult to put an exact date on when the Canberra Bomber will return to the skies, we are confident that the current progress should see it back to flying condition by the original target of the RAAF centenary year of 2021.