Thank You for making Warbirds Downunder 2018 great!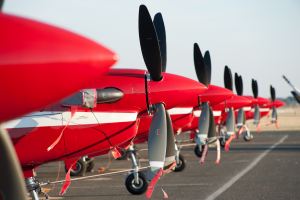 Well the sun has set on Warbirds Downunder for 2018! Thank you to all of our fans who came along to another outstanding celebration of aviation history. Also, thank you to everyone who expressed support both on our social media channels, and in the personal emails that have been sent to our team.
The personal stories shared over the weekend, as well as the excitement of seeing our amazing flying machines, are great ways to honour the men, women and machines that have helped shape our nation both presently and in the past.
Warbirds Downunder 2018 included:
Almost 20,000 fans at the aerodrome over two event days
More than 60 warbirds flying the skies over Temora, and many more as static displays
Thousands of visitors enjoyed the best of the Riverina over the event week
Dozens veterans stories shared
Thousands interactions through our Facebook channel
Our aim for this event (and all of our events), was for visitors to have a fantastic experience and be inspired by what they saw, heard and learned in order to come back to Temora again in the future. We hope you enjoyed the experience and we hope to see you in Temora again very soon.
If you have any great photos or stories from the event that you would like to share with us, please head to our Facebook page. We would love to hear about the wonderful time you had at Warbirds Downunder 2018.
Thank you!