Warbirds Downunder 2018 on October 12th & 13th, is less than 4 months away and we are getting very excited indeed! The line-up of aircraft is coming together nicely and all the plans for the weekend are shaping up well. We are looking forward to the best Warbirds Downunder event yet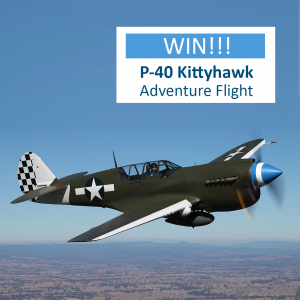 Win a P-40 Kittyhawk Adventure Flight
The Temora Aviation Museum is dedicated to contributing to military aviation history through the sharing of stories, as part of our Unsung Heroes program.  With this in mind we have partnered with Classic Air Adventure Flights, and invite you to share your (or your family member's) story, to go into the draw to win a some amazing prizes, including a P-40 Kittyhawk adventure flight!
All the details and prizes are on the link, and on our website.
The competition closes on 3 September 2018, so get started capturing your stories – we look forward to seeing them!
Tickets
If you haven't yet secured your tickets for Warbirds Downunder 2018, you still have time – we'd love to welcome you on Friday 12th and Saturday 13th of October in Temora!
While you're there you can also grab some exclusive merchandise as part of your Ticketmaster purchase – we have a Warbirds Downunder branded t-shirt and cap, so check it out!
If you have any questions about Warbirds Downunder, check out the FAQs on our website, and to stay up to date with all announcements follow us on social media channels below.