CA-13 Boomerang
Rego: VH-MHR Military S/N: A46-122
The Commonwealth Aircraft Corporation (CAC) Boomerang was a single seat fighter/army cooperation aircraft powered by a 1,200 hp Pratt & Whitney R-1830-S3C4G Twin Wasp 14 cylinder twin row radial engine.
Built in response to Australia's urgent need for fighter aircraft in WWII, the Boomerang utilised the design principles and construction techniques of the Wirraway advanced trainer, already in production at CAC. Such was the speed of its development that no actual prototype was produced. The first five production aircraft were already under construction before the first aircraft flew.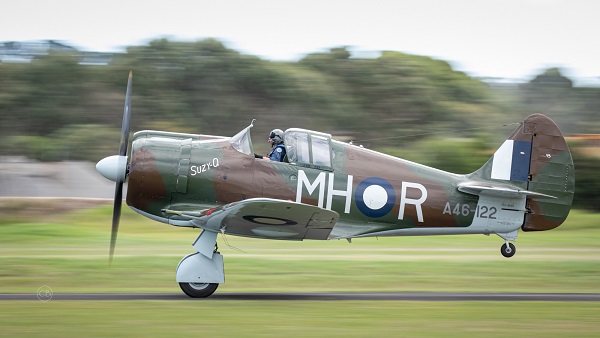 From the time of official approval by the Government to proceed with the Boomerang production, to the time of the first official flight was a little over sixteen weeks, a remarkable achievement by world standards. The Boomerang still remains to this day the only fully Australian designed and built fighter aircraft to see production.
Following the flight of the first Boomerang on 29th May 1942, a further 249 Boomerangs were constructed under four separate contracts between 1942 and 1945. Model designations were CA-12, CA-13, CA-19 and one CA-14 experimental turbocharged version. This same aircraft A46-1001 was later subjected to further major design changes and redesignated the CA-14A.
Boomerangs were flown by Nos. 4, 5, 83, 84 and 85 Squadrons RAAF in a home-defence role, undertaking escort duties for shipping convoys and in operations against the Japanese. It excelled in low-level army cooperation work over the New Guinea jungles, tasks which included directing artillery fire, marking targets for P-40 Kittyhawks and Corsair aircraft and providing aerial protection for ground troops.
The Boomerang A46-122 (with code letters MH-R) built in 1943, spent its entire service life with 83 Squadron and was assigned to B Flight. It initially had a red colour applied to it's spinner that represented spinners from 83 Squadron's A Flight. As this Boomerang had a light coloured spinner during the war, we decided to change the colour of its spinner from red to sky blue for more historically accurate look of this great aircraft.
The spinner has now been fitted to MH-R as it appeared when was found in Charters Towers back in 1983. The spinner had been housed by No.8 RAAF Stores Depot at Macrossan during the war but fortunately had ended up in the hands of a town resident when all of these new spares were dumped at the end of WWII.
This aircraft is now part of the RAAF 100 Squadron Temora Historic Flight Collection after being generously donated by the Temora Aviation Museum in July 2019.
Specifications
Engine
Pratt & Whitney R-1830-S3C4G
1200 Hp (895 kW)


Propeller
Hamilton Standard 3E50
Constant Speed three-blade propeller
Diameter 11' 0" (3.35 m)



Fuel

Aviation Gasoline 87 Octane
Fuselage Tank Capacity:
70 Imperial Gallons
318 Litres
84 U.S. Gallons
Wing Centre Section (2):
45 Imperial Gallons
204 Litres
54 U.S. Gallons
Provision for jetisonable 70 Imperial Gallons (318 Lt) plywood tank under fuselage.



Dimensions

Wingspan:
36' 0"
10.97m
Length:
25' 9 "
8.15 m
Wing Area:
225 sq. ft
20.90 sq. m
Height:
9' 7"
2.92 m



Weights

Empty:
5,373 lb
2,437 kg
Maximum Takeoff weight:
8,249 lb
3,742 kg



Armament

Two 20mm Hispano or CAC manufactured cannons
Four 0.303" Browning machine guns
Bombs could be substituted when the large drop tank was not carried.



Performance

Maximum Speed:
265 knots
305 mph
491 km/h
Cruise Speed:
165 knots
190 mph
305 km/h