CA-16 Wirraway
Rego: VH-BFF Military S/N: A20-653
VH-BFF was the first ex-military aircraft permitted to fly on the Civil Aircraft Register.
Commonwealth Aircraft Corporation (CAC) manufactured the Wirraway at Fisherman's Bend in Victoria. The aircraft was an Australian development of the North American Aviation NA-16-1A and NA-16-2K aircraft. It is powered by Australian manufactured versions of the Pratt & Whitney R1340 Wasp engine. CAC built a total of 755 Wirraways from 1939 to 1946.
VH-BFF was built in 1944 and its RAAF history, although brief, encompassed the drama of both flight training and active service.
The aircraft's military service details are: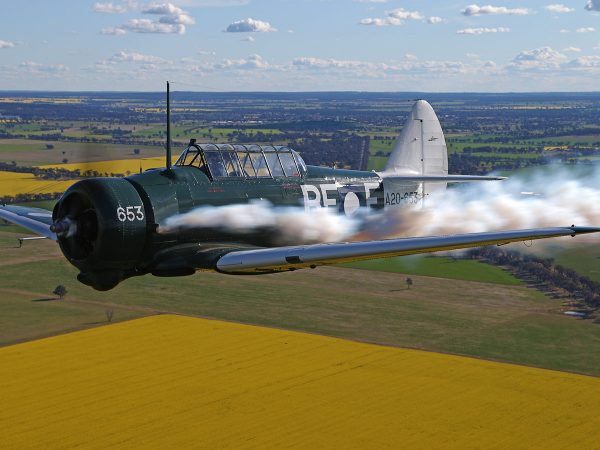 August 1944 – Received by the RAAF and allocated to 5 Service Flying Training School at Uranquinty, NSW.
January 1945 – Allocated to 5 Squadron. The aircraft was not actually received by 5 Squadron on Bougainville until July 1945.
January 1946 – Approval granted to dismantle the aircraft into components.
The aircraft on display is a composite of factory new and restored components. It was rebuilt in Victoria and was completed in 1975. Its assigned construction number is 1105.
David Lowy purchased VH-BFF from Malcolm Long in 1999 and donated it to the Temora Aviation Museum in December 2000.
The Wirraway is painted in 5 Squadron RAAF colours, as it was when it was based in Bougainville, Papua New Guinea.
This aircraft is now part of the RAAF 100 Squadron Temora Historic Flight Collection after being generously donated by the Temora Aviation Museum in July 2019.
Specifications
Engine
Pratt & Whitney R-1340
600 horsepower (448 kW)
Nine cylinder, supercharged, air cooled, geared radial engine
Propeller
Hamilton Standard Constant Speed
All metal, three blade



Fuel

Aviation Gasoline 100 Octane
Wing Tank Capacity:
97 Imperial Gallons
441 Litres
166 U.S. Gallons
Reserve Tank Capacity (2):
9 Imperial Gallons
41 Litres
11 U.S. Gallons



Dimensions

Wingspan:
43' 0"
13.11 m
Length:
27' 10 "
8.48 m
Wing Area:
255.75 sq. ft
23.76 sq. m
Height:
8' 8 3/4"
2.66 m



Weights

Empty:
3,922 lb
1,811 kg
Maximum Takeoff weight:
6,595 lb
2,991 kg



Armament

Two forward facing, fuselage mounted .303 in. Vickers machine guns synchronized to fire through the propeller.
Provision for two 500 lb (227 kg) bombs plus two 250 lb (113 kg) bombs if no observer carried.



Performance

Maximum Speed:
191 knots
220 mph
354 km/h
Cruise Speed:
135 knots
155 mph
250 km/h
The specifications information is best viewed on tablet screen or bigger.