Gloster Meteor F.8
Rego: VH-MBX Military S/N: VZ467
The Gloster Meteor is an all metal, twin jet engine, retractable gear aircraft. The F.8 was the most built of all Meteors, with 1,522 being produced. The Gloster Meteor was the first operational jet to fly with the Royal Air Force. The earliest recorded combat successes were by Meteor F.1s, against V1 flying bombs on 4 August 1944. A Meteor was also used in the first tests of a ground level ejection seat.
In May 1946 a F.3 Meteor was taken on charge by the Royal Australian Air Force, becoming the first RAAF jet fighter. It was not until 1951 that Meteors entered regular service with the RAAF and then they did so with a true "baptism of fire". Meteor F.8 aircraft were taken into action by 77 Squadron RAAF, in Korea, against the Mig-15.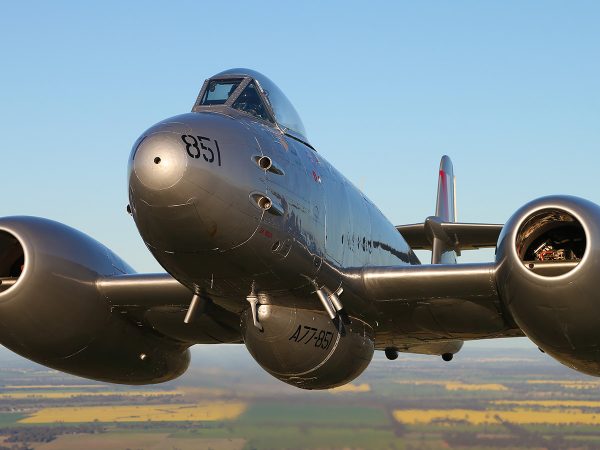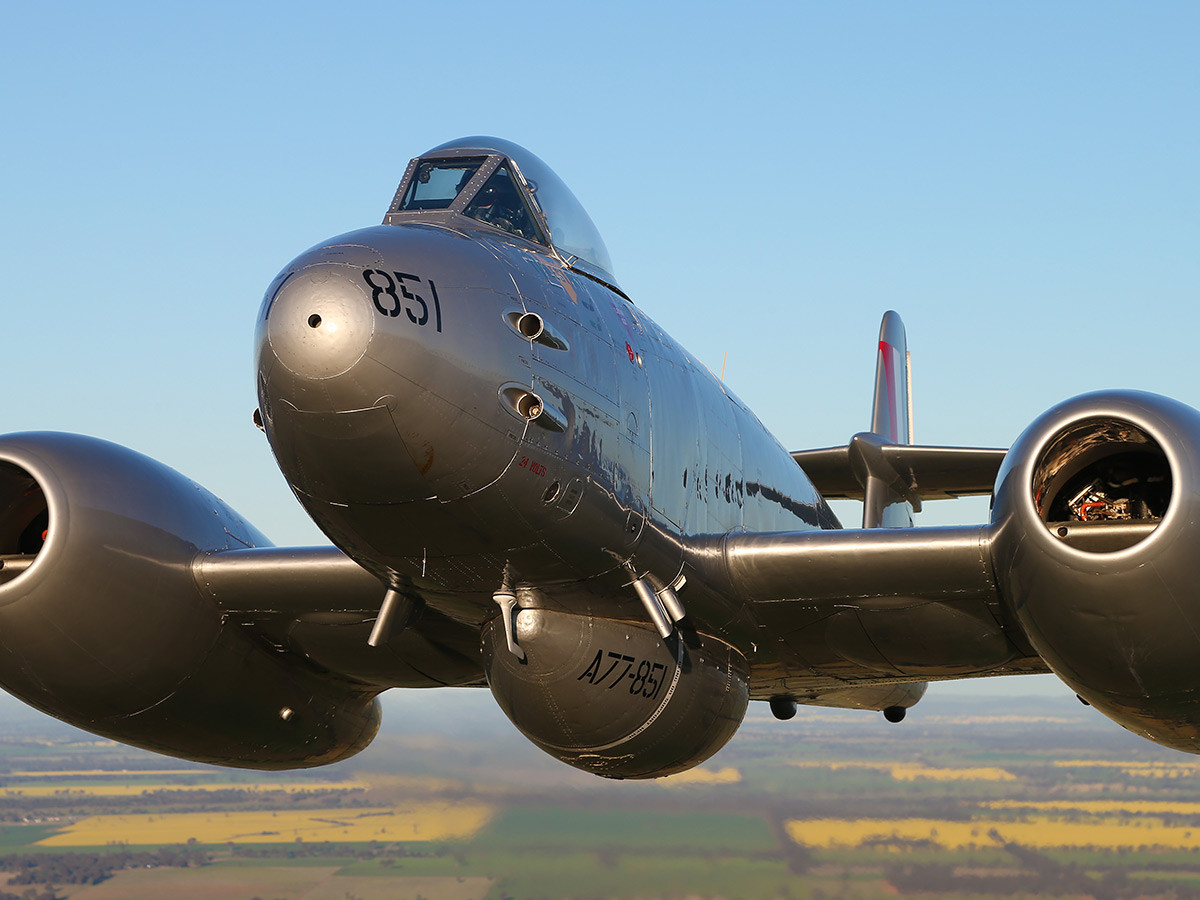 The Meteor was built by Gloster in 1949 and carried RAF serial number VZ467, serving until 1982. Its last military role was as a target tug. After being retired from the RAF, the Meteor was privately owned and operated in the UK. Upon being purchased by the Temora Aviation Museum, the aircraft was disassembled, transported to Australia and reassembled at Bankstown NSW. In August 2001, the Meteor flew from Bankstown to its new home in Temora, where it is maintained in an airworthy condition, making it the only Gloster Meteor F.8 flying in the world.
Since being re-painted by the Museum, the aircraft carries the markings of a Korean War era Meteor operated by RAAF 77 Squadron and flown by Sgt. George Hale.
This aircraft is now part of the RAAF 100 Squadron Temora Historic Flight Collection after being generously donated by the Temora Aviation Museum in July 2019.
Specifications
Engine
Two Rolls Royce Derwent 8
3600lb (1636 kg)
Single stage, centrifugal flow turbojets




Fuel

Aviation Turbine Fuel (Jet Fuel)
Fuselage Tank Capacity:
330 Imperial Gallons
1500 Litres
396 U.S. Gallons
Ventral Tank Capacity (2):
175 Imperial Gallons
796 Litres
210 U.S. Gallons



Dimensions

Wingspan:
37' 2"
11.30 m
Length:
44' 7 "
13.59 m
Wing Area:
350 sq. ft
32.51 sq. m
Height:
13' 10"
4.22 m



Weights

Empty:
10,626 lb
4,820 kg
Maximum Takeoff weight:
19,100 lb
8,664 kg



Armament

Four nose mounted Hispano Mk V 20mm cannon.
Two 1000lb (455 kg) bombs or eight 60 lb (27.3 kg) air to ground rockets.



Performance

Maximum Speed:
508 knots
585 mph
941 km/h
Cruise Speed:
340 knots
391 mph
629 km/h