Supermarine Spitfire Mk XVI
Rego: VH-XVI Military S/N: TB863
This Supermarine Mk XVI Spitfire is an ex-wartime example, built at Vickers Armstrong's Castle Bromwich "shadow factory", near Birmingham, in late 1944.
The aircraft's first action was on 24 March (wearing squadron code FU-P) when, laden with two 250lb bombs and a long range belly tank, the aircraft headed a flight of four Spitfires for an armed reconnaissance; briefed to bomb rail targets in the Utrecht/Hague/Leiden area. TB863's cannons were fired in anger for the first time during a strafing attack on a large railway coach by the four, claimed as probably destroyed, before returning to altitude. The aircraft continued with these sorties flying twelve missions during its six weeks on operations; 23 hours 55 minutes in total.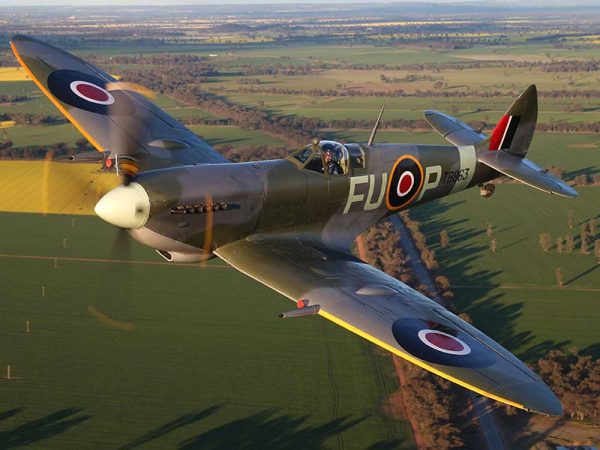 On 17 July 1951, TB863 suffered a take-off mishap and was struck off charge as scrap. The aircraft was subsequently purchased by Metro-Goldwyn-Mayer as a stage prop for their film on wartime pilot Douglas Bader, filmed in 1955 as "Reach for the Sky". It is thought that the aircraft was used for cockpit shots at MGM's studios where, on completion of the filming, the Spitfire was placed, minus an engine, in the props room for possible future use. Twelve years later, TB863 emerged to be dusted down for a further film role in the "Battle of Britain". The aircraft was utilised as a spares supplier for those aircraft actually flying in the film.
The aircraft was then transferred to a new owner and moved in December 1968 to Southend. In October 1982, the aircraft was moved to Booker and work on its restoration began with the aircraft receiving the civil registration of G-CDAN. The project was subsequently sold to Stephen Grey of The Fighter Collection and restoration was begun in earnest in February 1986.
In 1987, the project was purchased by Sir Tim Wallis who had dreamed of owning a Spitfire – this ultimately led to the development of his Wanaka, New Zealand-based Alpine Fighter Collection. On completion of the restoration, the aircraft was shipped to NZ where it was reassembled and test flown in January 1989 as ZK-XVI, in the hands of Stephen Grey.
Sir Tim received an endorsement on the Spitfire and flew the aircraft at many airshows throughout New Zealand, including the world renowned 'Warbirds Over Wanaka'. Tim had re-painted the Spitfire in the exact livery of No. 453 Squadron R.A.A.F including the Squadron and aircraft codes 'FU_P' – the uniform it wore on its first operational sortie across the English Channel in 1945.
Temora Aviation Museum acquired the aircraft in April 2006. The aircraft was disassembled by the Alpine Fighter Collection Team and shipped to Temora NSW where it was reassembled and registered as VH-XVI. It is maintained in an airworthy condition and regularly flown at Museum Showcase Days and airshows. This Spitfire is one of only a handful of flying Spitfires in Australia – of which two are based at the Temora Aviation Museum.
This aircraft is now part of the RAAF 100 Squadron Temora Historic Flight Collection after being generously donated by the Temora Aviation Museum in July 2019.
Specifications
Engine
Rolls-Royce Merlin 70
1710 horsepower (1275.66 kW)
27 Litre liquid cooled V-12 piston engine equipped with a two speed, two-stage supercharger.


Propeller
Rotol Constant Speed
10'9" diameter (3.22m)
An engine driven propeller governor hydraulically controls four wooden blades.




Fuel

Aviation Gasoline 100 Octane
Wing Tank Capacity:
48 Imperial Gallons
218 Litres
57 U.S. Gallons
Wing Tank Capacity (2):
37 Imperial Gallons
168 Litres
44 U.S. Gallons



Dimensions

Wingspan:
32' 7"
9.93 m
Length:
31' 4 "
9.55 m
Wing Area:
242 sq. ft
22.50 sq. m
Height:
12' 7 ¾"
3.85 m



Weights

Empty:
5,985 lb
2,715 kg
Maximum Takeoff weight:
8,700 lb
3,946 kg



Armament

Two 20mm Hispano Cannons.
Provision for one 500 lb (227 kg) or two 250 lb (114 kg) bombs.



Performance

Maximum Speed:
361 knots
416 mph
669 km/h
Cruise Speed:
220 knots
253 mph
407 km/h