Flt Lt. Edward Livingston Lyell "Ted" Sly, DFC, Mentioned in Despatches, was born in London on 27 April 1918 to parents George Sly RFC and mother Millie. Christened at Queens College chapel, Oxford, in the first ever military christening ceremony held there, young Edward, "Ted" had a family history that included some of the most prominent Colonial figures of the 1800s including Sir Thomas Livingston Mitchell, Surveyor General of NSW between 1825 and 1855 and Ted's Grandfather, George James Sly, Doctor of Law, who had founded the highly successful legal firm Sly and Russell.
The family was expatriated to Australia in 1919 and in 1920 Ted's brother Ian was born followed by Richard in 1925.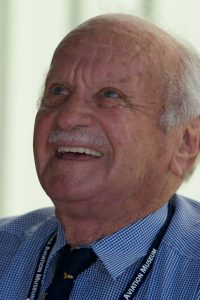 Schooled at Kersworth in Dover Road, Rose Bay, then at Hayfield, a preparatory school for Kings School at Parramatta where he was a boarder and also where he contracted double pneumonia. He later moved to Cranebrook both as a boarder and as a "day boy", but with the Great Depression affecting his father's business, the family moved to the Grandfather's property, Anglewood, at Burradoo near Bowral where his education was completed at Bowral High School.
In 1934 Ted joined the ES and A Bank in Sydney through family connections with its Managing Director. Banking was not in his blood so in 1935 he accepted his uncle's offer of a job in the Hunter Valley on a pastoral property. After twelve months he gained a position as a jackaroo on a cattle station "Bluff Downs" on the Burdekin River north of Charters Towers in Queensland. He thrived on station life, never forgetting the advice on tracking and bush survival given to him by a full blood aboriginal named Jubilee. He later sought and gained a jackaroo position at Goolhi, a sheep station near Gunnedah, NSW, where he remained for some eighteen months.
Three weeks after the outbreak of war in Europe, Ted returned to Sydney and joined the 7th Light Horse Regiment. The unit was based at Wallgrove outside Sydney and it is there, in Ted's words, came "a sign from on high", when a Tiger Moth biplane circled the Light Horse manoeuvres and Ted decided to follow in his father's footsteps to change from the cavalry to the Air Force.
Prior to his acceptance by the RAAF in April 1940, his medical examination revealed the effects of his childhood pneumonia. Fortunately, his medical examiner decided that any failure on Ted's part due to the pneumonia would show up in his aircrew training and passed him fit for service.
With the rank of Aircraftsman II, Ted was called up to Initial Flying Training School, Bradfield Park on 14 October 1940 and six weeks later as Aircraftsman I was chosen for flying training in Rhodesia. Posted to No.26 Elementary Flying Training School at and airfield called "Guinea Fowl" near Gwelo, he trained initially on Tiger Moths and later at Thornhill on Harvard Mk.1s, (similar to Australia's CAC Wirraway). Ted was chosen to fly fighters and was only one of two pilots on his course posted to fly Spitfires at an Operational Training Unit in England.
Ted had two instructors at the Spitfire OTU at Harwarden, a Free Frenchman named Kosiva and an Australian, Tony Gaze who later went on to be a multiple "Ace", Australia's first jet fighter pilot and post war, Australia's first Formula 1 driver.
Following training Ted was posted to No.452 Sqn RAAF at red Hill in Surrey commanded by Keith "Bluey" Truscott. He joined "B" Flight led by Ray Thornold-Smith. The unit converted to the Spitfire Mk.V but before it moved to the Isle of Mann, Ted and another pilot were posted to the Middle East to form the nucleus of the first Spitfire Squadron to operate there.
A circuitous route from the UK through Lagos, Chad and Khartoum left Ted with Malaria recovering from which he was posted to No.450 Sqn RAAF based near El Alamein. Following conversion to P-40 Kittyhawks, Ted undertook his first combat mission on 27 August 1942 dive bombing using 500lb bombs. He continued on these and straffing missions quickly learning, "the importance that luck played in our early survival as fighter pilots".
In September 1942 a chance meeting with an Army liaison officer led Ted to meeting his brother Ian who was manning a Bofors anti-aircraft gun near El Alamein. It was the last time Ted saw his brother and lifelong companion alive. He was killed in the Pacific.
Ted continued to fly on ground attack missions including a short period flying Hawker Hurricanes at El Ballah but after returning to No.450 Sqn he was transferred to No.92 East India Sqn flying Spitfires, part of the first Spitfire Wing to operate with the 8th Army in the Western desert.
On his third Spitfire operational flight, Ted's aircraft was hit at extreme range by cannon shells from a Messerschmitt 109. He crash landed the Spitfire on a bomber airfield and believed without doubt that he had been hit by an aircraft flown by Hauptmann Hans-Joachim Marseille, the Luftwaffe's "Star of Africa" whose final tally was 101 P-40 Tomahawk/Kittyhawk, 30 Hurricanes, 16 Spitfires and 4 bombers.
92 Sqn flew on operations in support of the Allied push westwards across North Africa from the outset of the Battle of El Alamein. Included in 92 Squadron were John Waddy, later transferred to the Pacific flying Kittyhawks and a fifteen and a half victory "Ace" and Paul Brickhill who flew as Ted's wingman until shot down becoming a POW. He later went on to write the highly successful novels "Reach for the Sky" and "The Dambusters".
Ted's experience improved and he began to fly with Neville Duke, an ex Battle of Britain pilot with over 20 victories but Ted acknowledged Duke's superior experience and expertise. The advance across the desert brought into combat the Focke Wulf FW.190, an exceptional fighter up to 35,000 feet. Ted, Duke and four others were tasked with the delivery of six of the new Mk.IX Spitfires from Casablanca to the squadron and they subsequently flew top-cover to the units Mk.V Spitfires.
With Rommel's retreat and eventual withdrawal from North Africa, 92 Sqn was ordered to the island fortress of Malta to take part in the invasion of Sicily and to that effect flew sweeps over the boot of Italy and Sicily itself. Fate took its hand and at the end of his first operational tour Ted was posted to the huge OTU at Abu Suir in Egypt, as Deputy Chief Flying Instructor to Neville Duke commanding "B" Flight training prospective Spitfire pilots. Included in his list of students "shared" with Duke was King Peter of Yugoslavia.
Despite his attempts to be posted to Europe, at the end of his OTU posting he was ordered back to Australia. In Australia on leave he met a WAAF Irene Bettington of Merriwa with whom he soon built a relationship. Ted quickly learned that the RAAF training on Spitfires was woefully behind his own experience in North Africa. At No.2 OTU, Mildura, he again met up with Bobby Gibbes where he and others who had been Spitfire instructors themselves were being trained by instructors with little of o operational experience.
Posted to No.457 Sqn, part of 80 Wing, as a Flight Commander under the command of Wg.Cdr Clive Caldwell, Ted now flew the Spitfire Mk.VIII from Batchelor in the Northern Territory. The Mk.VIII is often acknowledged as one of the best Spitfires ever produced. Here, Bobby Gibbes suffered an engine failure on take-off resulting in a miraculous crash landing from which he emerged with some burns but virtually unscathed. He married his nurse, Jean, with the ceremony and reception organised by Ted.
80 Wing moved from Australia to Morotai in the Halmahera Islands for the final operations against Borneo. It remained on operations attacking the sporadic ground targets available and infrequent barges until the end of the war. In the meantime Ted was chosen as one of the pilots to test the Spitfire against captured Japanese fighters at Clarke Field in the Philippines and experienced the Pacific War from both sides when he flew a captured Mitsubishi Zero.
Ted returned to the Wing on operations against Borneo and from Labuan Island utilising the skills of the groundcrew to employ Japanese bombs on the Spitfires against Japanese positions. His opinion of the rear echelon Air Board RAAF officers regarding this "Unapproved" modification was less than favourable. The total disconnect between the experienced field RAAF officers and pilots and their Headquarters counterparts is well described in his autobiography "The Luck of the Draw".
Ted's last operational sortie was on 17 July 1945. He returned to Australia and on 5 September 1945 married Irene Bettington. He was discharged from the RAAF in March 1946 with three aerial victories and the Distinguished Flying Cross.
Post war, Ted and Irene went back to the land firstly near Gunnedah. Their daughter Jennifer was born in 1946 with Vicki in 1950. Ted was at the forefront of some innovative farming practices including grain bulk handling and his collaboration with Grain Driers to test bulk handling techniques. As a result, Ted and partners flew to Guadalcanal in the Solomon Islands in the mid 1960s thereafter forming a co-operative which produced high yield crops including rice. His time on Guadalcanal included sojourns to New Guinea to visit Bobby and Jean Gibbes.
Further business opportunities presented themselves in the New Hebrides in the 1970s, but in 1975 he and Irene returned to Australia to retire from the land. They moved to Newport, a Sydney seaside suburb but the call of the land saw Ted purchasing a property at Waterloo Creek, NSW, which they successfully farmed for four years. Ted's later involvement in industry led to the development of farm motorbikes with sidecars and also, unbelievably, to the development of a portable breathalyser.
Ted was integral in the creation of the Spitfire Memorial defence fellowship in conjunction with the University of NSW and the Australian Defence Force Academy. The Fellowship provides incomes for students who show a demonstrated interest in the defence of Australia, sustained academic achievement and or significant work experience.
Ted passed away on 30 November 2013 and is survived by his daughters Jennifer and Vicki and his grandchildren.
Compiled by Peter Anderson